Pre wedding skin care for every skin type
Every bride's dream day is one of the most precious days of their lives and no matter how minimal, or how extravagant the wedding is, every bride works for days on her skin and her outfit, to have the best possible look on the big day. So today we bring a list of tips for brides to be to work on their skin before the wedding day, to add to the beautiful glow :-
1. Have a daily day/night skin care routine
While it's important to have a routine in place, it shouldn't be limited only to the mornings. Following a skincare regime at night is equally important and your skin has different needs in the morning and the evening. A few steps might be common in both the routines but some additional steps make all the difference to how your skin is treated in the day versus the night. Most importantly, wear sunscreen every single day, no matter the weather or your plan for the day. The sunscreen should be that star product in your skincare routine, especially in the morning and you can also go for an all natural skin care routine, so that you are able to replenish and rehydrate your skin before the big day.
2. Natural skin care
You may be looking to get expensive and the best treatments on your big day, but why not start prepping up your skin with natural treatments? Your skin is different and will take time to adjust to different skincare products so if you haven't already been using different skincare products, you can go all natural as well. With no chemical side effects, you can have good salon treatment at home every few days. Using skin care products that are organic and nourish your skin can turn out to be the most important part of your pre wedding skin care routine. You can exfoliate twice a week and also give yourself a facial every once a week. All in all, you need to bananas with all natural skin care techniques and products to prep your skin for the D-day.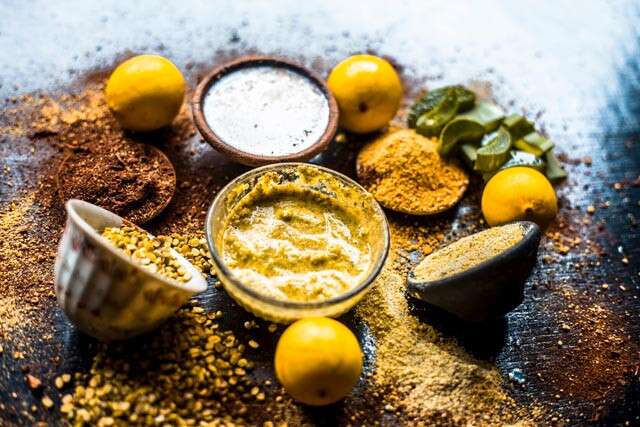 3. CTM all the way
CTM stands for Cleansing, Toning and Moisturizing. These are the most important steps of any care care routine or pre-makeup regime, and doing these in the morning and nights can give and make your skin feel completely different. Cleansing will help your face get rid of all the dirt that gets collected on your face throughout the day and a good cleanser can also help in removing all the makeup and impurities from your face. Toning will help you unclog your pores and prep your skin for the next step which is moisturizing. Moisturizing during the day and night can lock in all the moisture on your face, leaving a soft and supple texture of your skin ready for makeup or bed time.
4. Facepacks
Apply face packs atleast once a week to your face in order to get the perfect glow for your big day. You can start this bridal routine 3 months before your wedding day and continue till the very last day. You can go all natural and apply home made natural face packs or go to a best beauty salon in Nagpur and let them pamper you with their best products. If you're trying home made face packs, make sure that the ingredients are useful and suit your skin type and if you're going to a salon, make sure you let the salon know what your skin type is so that they can cater best to your needs. You can even do a patch test at home to see if there are any harmful reactions of any natural products on your skin as well. You can go for turmeric, yogurt, haldi, besan, lemon, cucumber, bananas, milk or even avocado as the base for your home made face packs.
5. Body massages for the win
Body massages could probably be one of the most underrated services for your skin. Body massages not only help you relax immensely but also help you prepare your skin for the big day. There could be lot of jitteriness and tension revolving around your big day, so getting a body massage done every few weeks can help you release all the muscle stress. Massage will not only make you feel rejuvenated but the oils used during the massage can also help your skin feel nourished and will also help in restoring your skin elasticity.
Now that you know what your skin exactly needs, make sure to drop by Let's Transform salon for all your best skin care needs, because we truly know what your skin needs for the big day.